Nestled in the Provence-Alpes-Côte d'Azur region, the Luberon UNESCO Global Geopark is located nearby the cities of Avignon, Aix-en-Provence and Marseille. The Geopark territory corresponds to the area of the Luberon Regional Nature Park.

Country: France
Region: Provence – Alpes – Côte d'Azur
Departments: Vaucluse (84) and Alpes-de Haute-Provence (04)
Municipalities: 85 included in the geopark
The Luberon Regional Nature Park is a protected area that pursue the objectives of sustainable ecological, economic and social development.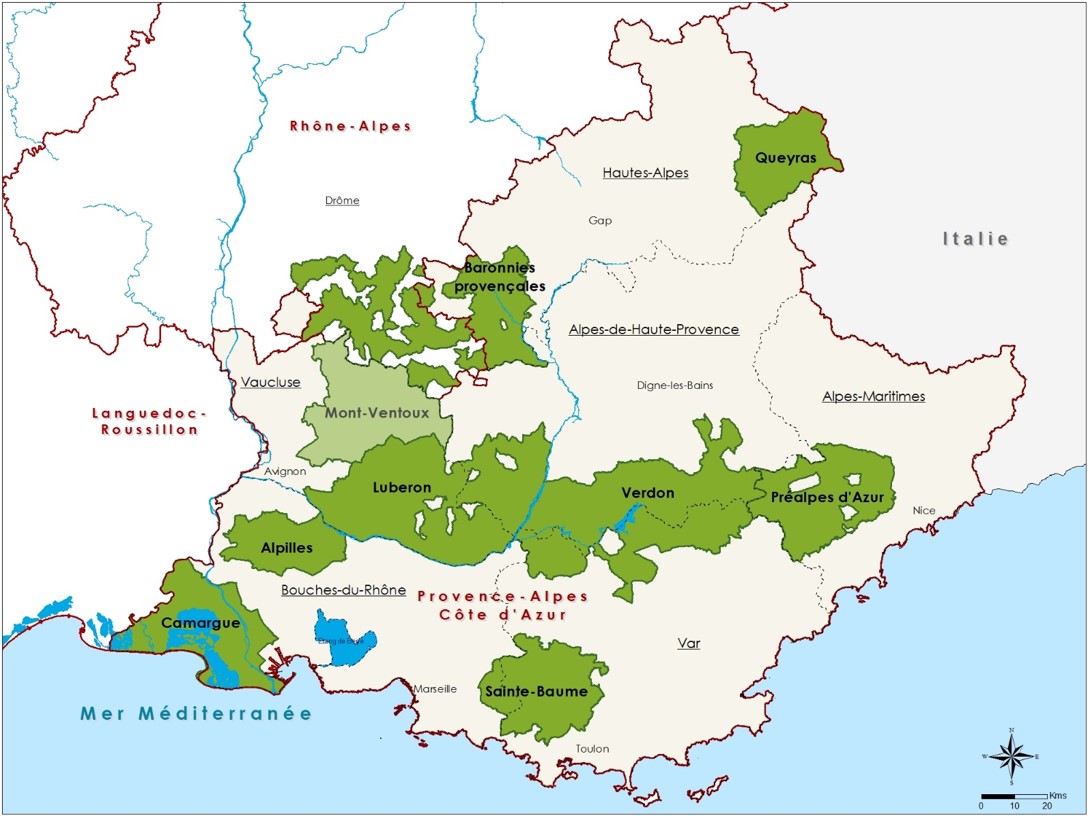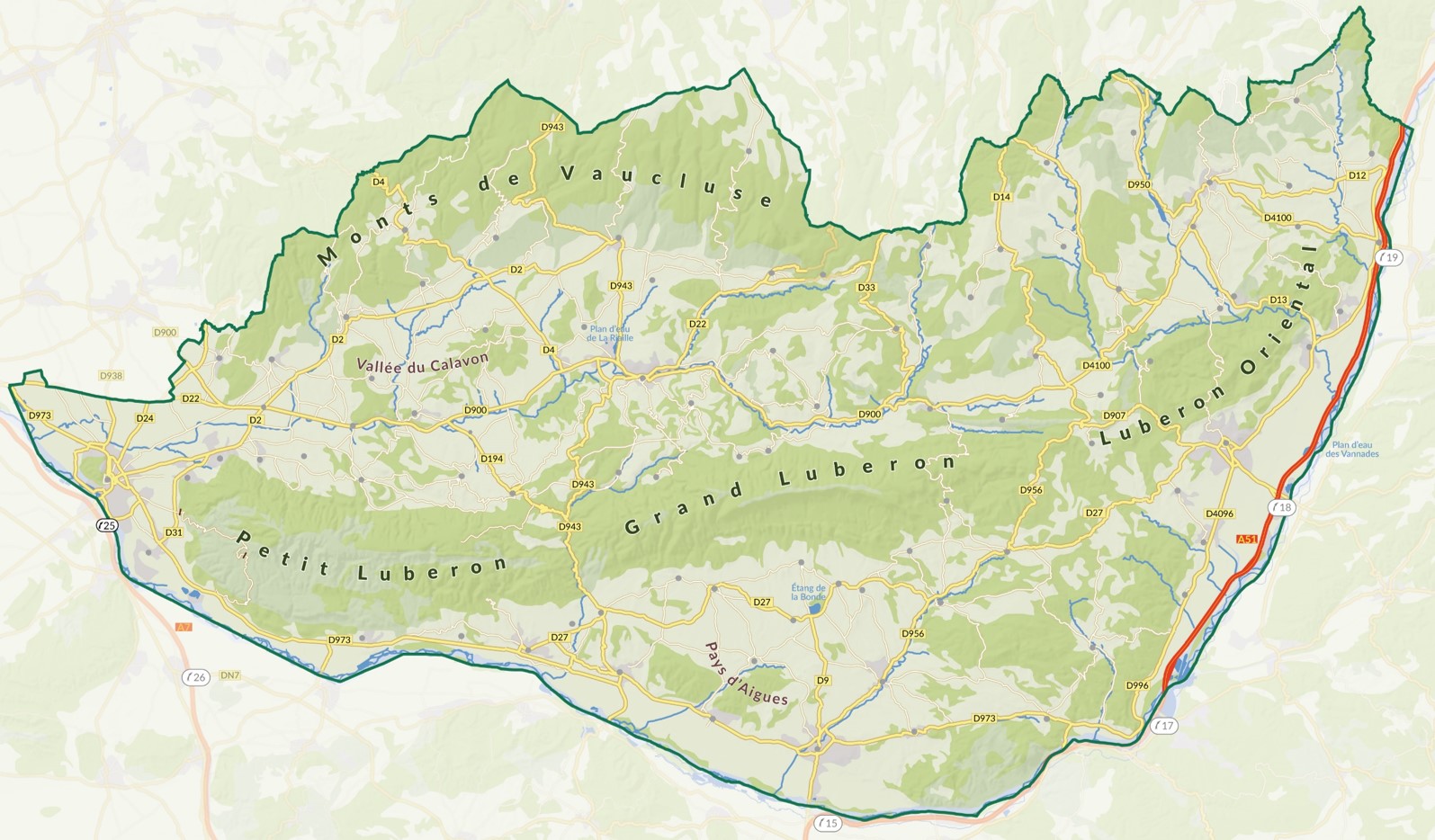 The headquarter of the geopark is the house of the Parc Naturel Régional du Luberon.
In the historic center of Apt, the Maison du Parc du Luberon welcomes you in a mansion of the eighteenth century.
The permanent exhibition of Geology Museum presents a rich collection of fossils showing the geological history of the Luberon.
La Thomassine, Maison de la Biodiversité in Mansoque
With its 4-hectare orchard and its 5 000 m2 vegetable garden, la Thomassine is a living museum of forgotten plants and the place to discover wild and domestic biodiversity. Its collection includes a 12 000-tree orchard-conservatory with 290 old fruit-tree varieties and a vegetable garden with dozens of varieties.
Le château de l'Environnement in Buoux
The castle of the Environment, owned by Park, hosts students every year who come to discover the Luberon nature heritage with education professionals. More than 200 classes per year participate to the annual educational program of the Park on environment, geology, energy, waste, water, and history topics. Many actions are also conducted for the general public such as guided tours, exhibitions and conferences.
Discover, visit …
APT
Geology Museum, Maison du Parc
Geology Museum, Maison du Parc in Apt
© PNRL - Stéphane Legal
Maison du Parc
84400 Apt
Phone +33 (0)4 90 04 42 00
Wind mill of Salignan
© AVECC - Hervé Vincent
Maison du Parc
84400 Apt
Phone +33 (0)4 90 04 42 00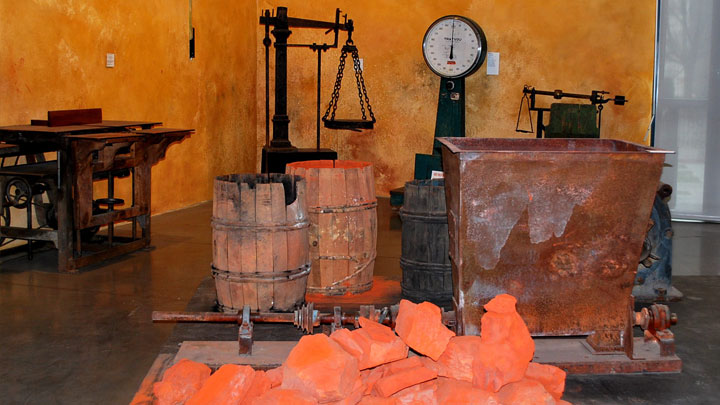 Ochre exploitation at the Museum of Apt
© Ville d'Apt
Phone +33 (0)4 90 74 95 30
VIENS
Fossil footprint slab
visit of the fossil footprint slab of Viens
© PNRL - Stéphane Legal
Maison du Parc
84400 Apt
Phone +33 (0)4 90 04 42 00
CABRIERES-D'AIGUES
Geological trail
Geologic discovery trail of Cabrières-d'Aigues
© AVECC - Hervé Vincent
Village
GPS : 43.784115, 5.498096
VACHERES
Pierre Martel Museum: paleontology, archeology
Vachères Museum
© PNRL - Stéphane Legal
04110 Vachères
Phone +33 (0)4 92 75 62 15
ROUSSILLON
Ôkhra, Mathieu Ochre factory
Ecomusée de l'Ocre, Roussillon
© Philippe Durand
Bruoux mines, Gargas
© Philippe Durand
84400 Gargas
GPS : 43.90779, 5.345809
Phone + 33(0)4 90 06 22 59
accueil@minesdebruoux.fr
www.minesdebruoux.fr
KEY POINTS
—
Country: France
Region: Provence – Alpes – Côte d'Azur
Departments: Vaucluse (84) and Alpes-de Haute-Provence (04)
Municipalities: 85 included in the geopark
MORE INFORMATION
—
Learning centers within the geopark:
> The geology museum at la Maison du Parc, Apt
> The Environement Castle, Buoux
> La Maison de la Biodiversité, Manosque