The Luberon Geological Reserve was established in 1987 as to justify special recognition and protection of 28 paleontological sites. The reserve has since grown and was extented in 1996 to a large protected area where regulations apply to ensure the conservation of the geological heritage. Today, the Nature Reserve covers more than  70 000 hectares in 31 municipalities.
Fossil fish and leave

© PNRL - Patrick Cabrol

fossil butterfly : Lethe corbieri

© Cœurs de nature/SIPA/Vincent Damourette

Fossil tracks of the slab of Saignon

© AVECC - Hervé Vincent

Plagiolophus of Murs, Naturhistorisches Museum Base

© PNRL - Loïc Costeur

Hipparion, University of Claude Bernard Lyon 1

© Noël Podevigne / Collections de Géologie de l'Université C. Bernard Lyon-1 (CERESE-Géologie)

Fossil mollusks from the Luberon (c Vincent Damourette/Coeurs de nature/SIPA)

Fossil mollusks from the Luberon (c Vincent Damourette/Coeurs de nature/SIPA)

Aptian marls from La Tuilière

cc_herve_vincent
A geological heritage of international significance
The exceptional geological character of the Nature Reserve lies in its rich fossiliferous laminated lacustrine limestones that yielded a diversity of vertebrates (fishes, frogs, birds, and mammals with preserved skin outlines), perfectly preserved insects (beetles, flies…) and plants (leaves, wood, flowers…), jellyfish and shells of aquatic mollusks with original colors and ornamentations…
Fossil sites in the Luberon nature reserve yielded bones of primitive mammals (horses, elephants and gazelles) and remarquable marine invertebrate sites.
The Luberon Geologic Nature Reserve is one of the richest places in the world for mammal fossil footprints.
The Nature Reserve also include the grey marl outcrops around the town of Apt are another unusual landscape, and correspond to the historical stratotype of the Aptian stage (120 million years ago).
What is a National Nature Reserve?
Protect
The rule common to all nature reserves is that their territory is neither to be destroyed nor to be changed. The National Geologic Nature Reserve of Luberon included 28 paleontological sites (399 hectares) and a large protected area (70.000 hectares). Extraction and collection of fossils and minerals are prohibited.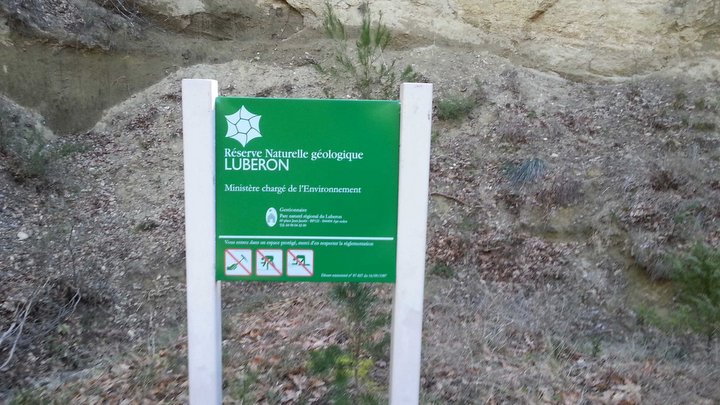 Nature Reserve information panel
© PNRL - Stéphane Legal
Manage
The Luberon Regional Nature Park was designated by the state to manage the Nature Reserve since 1988. The Park ensures the nature reserve missions by promoting scientific research, conservation, sustainable development and environmental education.
Construction of a wall to protect Viens's fossil tracks

© PNRL - Stéphane Legal

the fossil tracks of Saignon slab, covered with geotextile and sand to prevent erosion

© PNRL - Stéphane Legal

Luberon fossil collection database

© PNRL
Discover
The Nature Reserve uses its geological and cultural heritage to develop public education programs and to rise tourist an resident awareness about Earth history. It also provides special opportunities for research and promote collaborations with scientists.
field work at Viens

© PNRL - Stéphane Legal

Geology Museum

© PNRL/Stéphane Legal

Viens fossil tracks information panel

© PNRL - Stéphane Legal
KEY POINTS
—
The Luberon Nature Reserve:
> Since 1987
> 28 protected sites
> A protection perimeter that covers 31 municipalities
CONTACT US
—
Geology Division
Maison du Parc
60, place Jean Jaurès – 84400 Apt
> send an e-mail
> 04 90 04 42 00
Front picture: La Maison de la Biodiversité © PNRL – Nathalie Teil